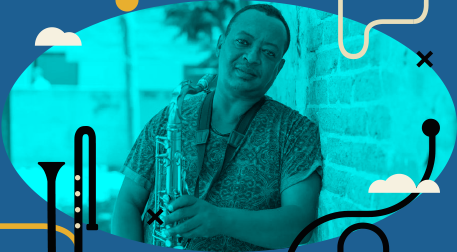 İSRAİL / İSRAEL
Abate Berihun is an Ethiopian-Israeli jazz saxophonist, vocalist and composer. A prolific musical artist, he is one of Israel's most prominent Ethiopian musicians.
Originally from Addis Ababa, Ethiopia, Berihun got a hold of a saxophone at an early age and enrolled himself in the Addis Ababa University Music School. It was here that he was first exposed to the Western jazz tradition and the albums of Charlie Parker and John Coltrane, two of his most important musical influences. At the age of 16, Berihun joined the Ethiopian Military Band. This period in his life came to an abrupt halt six years later, when the band's bus was ambushed by EPRDF forces, rebelling against Mengistu's Marxist dictatorship. Most of the band members were killed in the prolonged attack, and Berihun was wounded by two bullets.
After being discovered by Moshe Bar-Yuda Berihun's professional experience began to change. Bar-Yuda brought Berihun together with musicologist Shlomo Israeli, who was deeply touched by Berihun's playing. Israeli then paired Berihun with jazz pianist Yitzhak Yedid, a musical collaboration that gave rise to the Ras Deshen Ensemble. The ensemble takes its name from the Ras Dashen mountain in Ethiopia and blends free jazz with musical modes of the Ethiopian highlands.
Berihun's latest project is ADDIS KEN  ("New Day" in Amharic). This quartet co-led by pianist Roy Mor presents original compositions, Ethiopian-Jewish soul music and songs inspired by Jewish prayers. The result is a thrilling encounter between ancient Ethiopian traditions and the spirit of a modern jazz ensemble, employing musical adventurousness, rich harmonies, and heartfelt blues.
Abate Berihun and Addis Ken Project's digital concert which has been recorded especially for the festival will be shown on the big green screen at the festival centre.