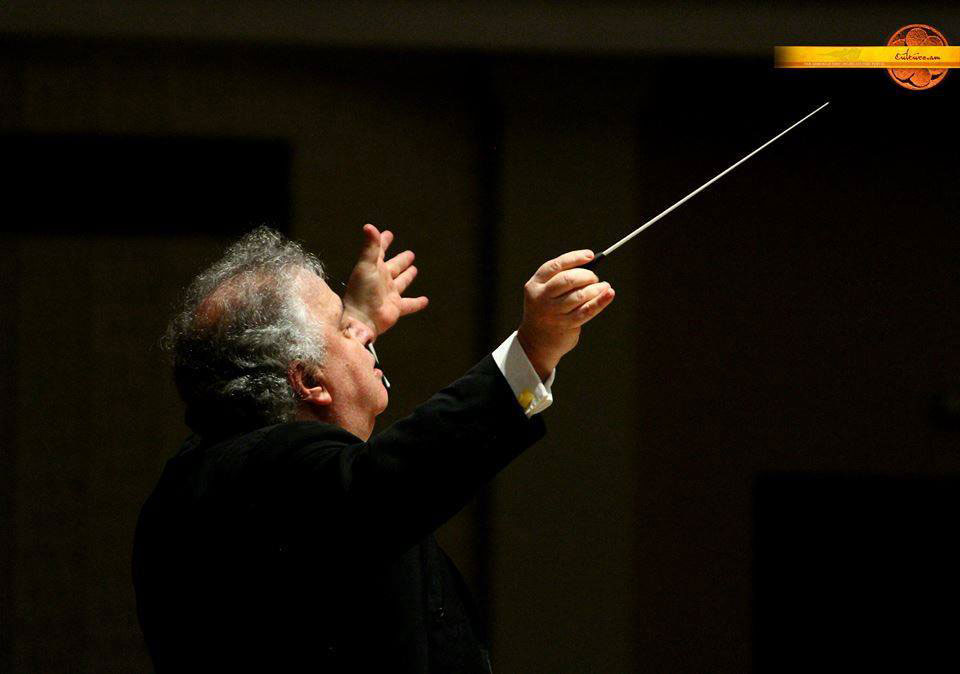 LIOR SHAMBADAL  Şef/Conductor
GÜLSIN ONAY*
Piyano/Piano
TOLGA ATALAY ÜN**
Piyano/Piano
DENIZ AKALIN***
Piyano/Piano
Schubert – Symphony no. 5 in B flat major, D. 485
-Allegro
-Andante con moto
-Menuetto. Allegro molto – Trio
-Allegro vivace
Wolfgang Amadeus Mozart: Piano Concerto 20 in D minor, K. 466***
-Allegro
-Romance
-Rondo. Allegro assai
Ara/ Interval
Wolfgang Amadeus Mozart – Piano Concerto 21 in C major ("Elvira Madigan") K. 467**
-Allegro maestoso
-Andante
-Allegro vivace assai
Ludwig van Beethoven: Piano Concerto no. 4 in G major, Op. 58*
-Allegro moderato
-Andante con moto
-Rondo. Vivace
Lior Shambadal
Maestro Lior Shambadal maintains an active career as music director and guest conductor throughout Europe, Asia, Israel and the Americas.
He currently serves as the chief conductor of the Berlin Symphony Orchestra (Berliner Symphoniker), a post he has held since 1997.
During his tenure, Maestro Shambadal has led numerous concerts at the fames Berlin Philharmonie Hall and the Konzert Haus in Berlin. He has also conducted the orchestra in hundreds of performances on tour in Japan, China, Korea, Italy, Spain, Ireland, England, France and Germany.
From 2009-2010 he was Music Director of the Orquesta Filarmónica de Bogotá (OFB), Colombia, with whom he toured in China and Italy in 2009.
Maestro Shambadal was the Principal Guest Conductor of the Liepaja Symphony Orchestra in Latvia in 2008-2009 as well as Principal Guest Conductor of the Chengdu Symphony Orchestra of the Central Music Conservatory on the Sichuan province of China (2007-2009). In addition, he participated in the Festival of San Gemini in Italy.
In 2007 he appeared for seven years as a guest artist for the orchestra training program at the Banff Centre in Alberta, Canada.
​From 2000-2003, Maestro Shambadal served as the Chief Conductor of the RTV Symphony Orchestra in Ljubljana, Slovenia, and toured with them in Germany, Italy, Austria and Switzerland. In 1980, Maestro Shambadal was nominated Chief conductor of the Haifa Symphony Orchestra. Later for 7 years he was music director of the Kibbutz Chamber Orchestra in Tel Aviv, with whom he regularly toured Europe. He was the founder of the ensemble Musica Nova in Tel Aviv, and led the Mendelssohn Players in Berlin.
Maestro Shambadal's opera repertoire includes over 40 works of the German, Italian, French, Russian and English literature as well as several world premieres, including Franz Hummel's "Gesualdo" and Magret Wolf's "Kirisk" after a libretto by D. Aitmatow. From 1993-2000, he served as Music Director of the Pfalztheater in Kaiserslauten, Germany, where he led more then 400 performances, including the inaugural concerts of the new Opera House. He has also appeared with Ontario Opera in Canada and led opera production in Israel (New Israeli Opera and Kibbutz Chamber Orchestra Opera productions). He has undertaken several special opera projects as well, including Glinka's "Life for the Tzar", in collaboration with Moscow's Bolshoi Theatre, and a new version of Rimsky-Korsakov's "Mozart and Salieri" (with added works of the two title composers) that he arranged, conducted, staged, and designed (set and costumes).
Maestro Shambadal regularly gives master classes in conducting as well as lieder interpretation for singers and orchestra in Berlin, Vicenza, Rome, Imola, Pescara, Czech Republic and in South America.
Lior Shambadal was born in Tel Aviv where he studied viola, trombone, composition (with Sergiu Natra) and conducting. His studies took him to the Mozarteum in Salzburg where he worked with Carl Melles. After moving to Vienna, Shambadal was tutored by acclaimed conductors, such as Hans Swarowsky, Carlo Maria Giulini, Igor Markevitch, Sergiu Celibidache and Franco Ferrara. He later expanded his studies in other areas, such as electronic music and composition, under the tutelage of Witold Lutoslawski and Henri Dutilleaux (in France), and Musical Phenomenology at the Faculty of the Johannes Gutenberg University of Mainz, Germany.
A prolific composer whose musical range includes chamber music and symphonic orchestra pieces, his works have been commissioned by several orchestras, including the Israel Philharmonic and performed in many countries.
Gülsin Onay
Gülsin Onay's subsequent, truly international, career has spanned 80 countries across all continents, from Venezuela to Japan. Gülsin Onay has given concerts in the major musical centres of the world.
An exceptional Chopin interpreter, Gülsin Onay was in 2007 honoured with the award of a State Medal by the Polish nation. She is also acknowledged worldwide as the finest interpreter of the music of A.Adnan Saygun, whose works feature prominently in her concerts and recordings, and whose 2nd Piano Concerto (which she has premiered in Turkey and abroad) was dedicated to her.
"An exceptional pianist, endowed with virtuosic brilliance and boundless energy, and an interpretive power both intelligent and emotionally sensitive", Gülsin Onay has recorded 20 albums that illustrate the breadth of her repertoire as well as her interpretive power.
Gülsin Onay takes a special interest in the promotion of charitable causes, giving charity concerts around the world – most recently for children in Lebanon, under the auspices of UNICEF, whose Turkish National Committee appointed her "Goodwill Ambassador" in 2003. Since its inception in 2004, Gülsin Onay has been the artistic advisor of the Gümüşlük Classical Music Festival.
Tolga Atalay Ün
Turkish-American pianist Tolga Atalay Ün was born in 1995, in Ankara, Turkey. He is currently in his second year of postgraduate studies (MPerf) at the Royal College of Music, London, studying piano with Prof. Norma Fisher, where he is a 'C. Bechstein Scholar supported by a Christopher Hogwood Scholarship'. He recently finished his undergraduate studies in Prof. Norma Fisher's piano class at the RCM, where he was a 'Kenneth and Violet Scott Scholar' and he has been admitted to the degree of Bachelor of Music (Honours) with First Class. He also studied the harpsichord for two years with Prof. Terence Charlston and piano with Prof. Niel Immelman at the RCM. He was generously supported by Sevda-Cenap And Music Foundation and Talent Unlimited.
In September 2016, Tolga Atalay ÜN was selected as a scholar to the 'Young Musicians on World Stages' (YMWS) project created and mentored by Güher & Süher Pekinel with financial support of TÜPRAŞ.
Playing as a soloist with the Ankara Youth Symphony Orchestra, as well as conducting them from the keyboard in the opening concert of 33rd International Ankara Music Festival in April 2016 won him a great recognition amongst the musical authorities. On the 6th March 2019, he played in the concert organised for the annual President's Visit from His Royal Highness The Prince of Wales to the RCM. His recent prizes include the Beethoven Medal from the Worshipful Company of Musicians as a result of winning the First Prize and the Thomas Harris Beethoven Award at the Beethoven Piano Society of Europe's 2017 Senior Intercollegiate Piano Competition; the First Prize, as well as the Prize for the Best Performance of A.A.Saygun and the Audience Prize at the 4th Ahmed Adnan Saygun Piano Competition in Turkey, 2017; the First Prize at the Kendall Taylor Beethoven Competition at the RCM in 2017 and the Second Prize at the Broadwood Horniman Harpsichord Competition in November 2015. He played numerous concerts in many different countries, such as Turkey, United Kingdom, Germany, Austria, Italy, Greece and Romania; and in prestigious concert halls such as London Royal Festival Hall, Cadogan Hall, St.Martin-in-the-Fields, Drapers' Hall, RCM Amaryllis Fleming Concert Hall, Salzburg Mozarteum, Bayerische Musikakademie Marktoberdorf, Boğaziçi University Albert Long Hall, Ankara MEB Şura Concert Hall, Bilkent Concert Hall and Antalya Cultural Centre. He participated in masterclasses given by renowned pianists and harpsichordists such as Ton Koopman, Janina Fialkowska, Rolf Plagge, Ian Jones, Gordon Fergus-Thompson, Andrew Zolinsky, and Daniel Shapiro. He also had conducting lessons given by Turkish Conductors Orhun Orhon, İbrahim Yazıcı and Burak Tüzün. As a result of this, he conducted numerous concerts with orchestras including Hitit Philharmonic Orchestra (a volunteer orchestra that he formed with his friends), Hacettepe Youth Symphony Orchestra and Ankara Youth Symphony Orchestra.
In 2004, he was accepted as a member to the Polyphonic Children's Choir of the Turkish Ministry of Culture and Tourism, conducted by Ahter Destan. During 2004-2009, he participated in many concerts, tours and organisations as a choir member and accompanist. In 2007, he was offered a place to start his professional piano studies with Sibel Özgün at the Hacettepe University Ankara State Conservatory, where he was graduated with the "Top of the School Award" in 2014. During his seven-year conservatory education; he gave many concerts, premiered many pieces and made many radio recordings as a pianist, conductor, chamber musician and accompanist. He took lessons about Modern Music History and Contemporary Music Techniques given by a famous Turkish composer İlhan Baran in 2009-2013. In May 2009, he was awarded the "honourable mention" in the Fourth International Istanbul Pera Piano Competition and in 2010, the "Jury's Special Award" in "The National Chopin Piano Competition", which was organized jointly by Başkent University and Bahçelievler Rotary Club in Ankara, Turkey under the auspices of the Polish Embassy, to commemorate Chopin's 200th birthday. After winning this prize, he got an invitation to become one of the founder members of Bahçelievler Interact Club. As an Interact, he has had the opportunity of participating in various social activities.
Özgür Deniz Akalın
Deniz Akalın was born in Mersin in 1999. He received his first music education from his family. In 2006, he started his piano education with Can Çoker at the State Conservatoire of Mersin University. Since 2014, he has continued his piano studies with Miroslav Dacic. In 2015 and 2018, he participated auditions of TUGFO (Turkey Youth Philharmonic Orchestra) and  took part as an orchestra artist in the concerts held in Istanbul, Bratislava, Budapest, Prague, Vienna, Warsaw and Berlin. In 2015, he won the Soloist Competitive Examination of Eskişehir Metropolitan Municipality Symphony Orchestra and in 2016 he performed Maurice Ravel's "Piano Concerto for the Left Hand" with this orchestra. In the competition titled "Mediterranean Chamber Music", which was first held in 2016, he won second prize and honorable mention; in 2017, second year of the competition, he won first and second prize; and in 2018, he won the first and honorable mention. He won first prize in the Ahmed Adnan Saygun Piano Competition at the International  Gümüşlük Classical Music  Festival in 2017. In 2019, he won the second prize in the Faruk Erengül National Piano Competition. He continues his studies with Aslı Demirağ at the State Conservatoire of Mersin University.