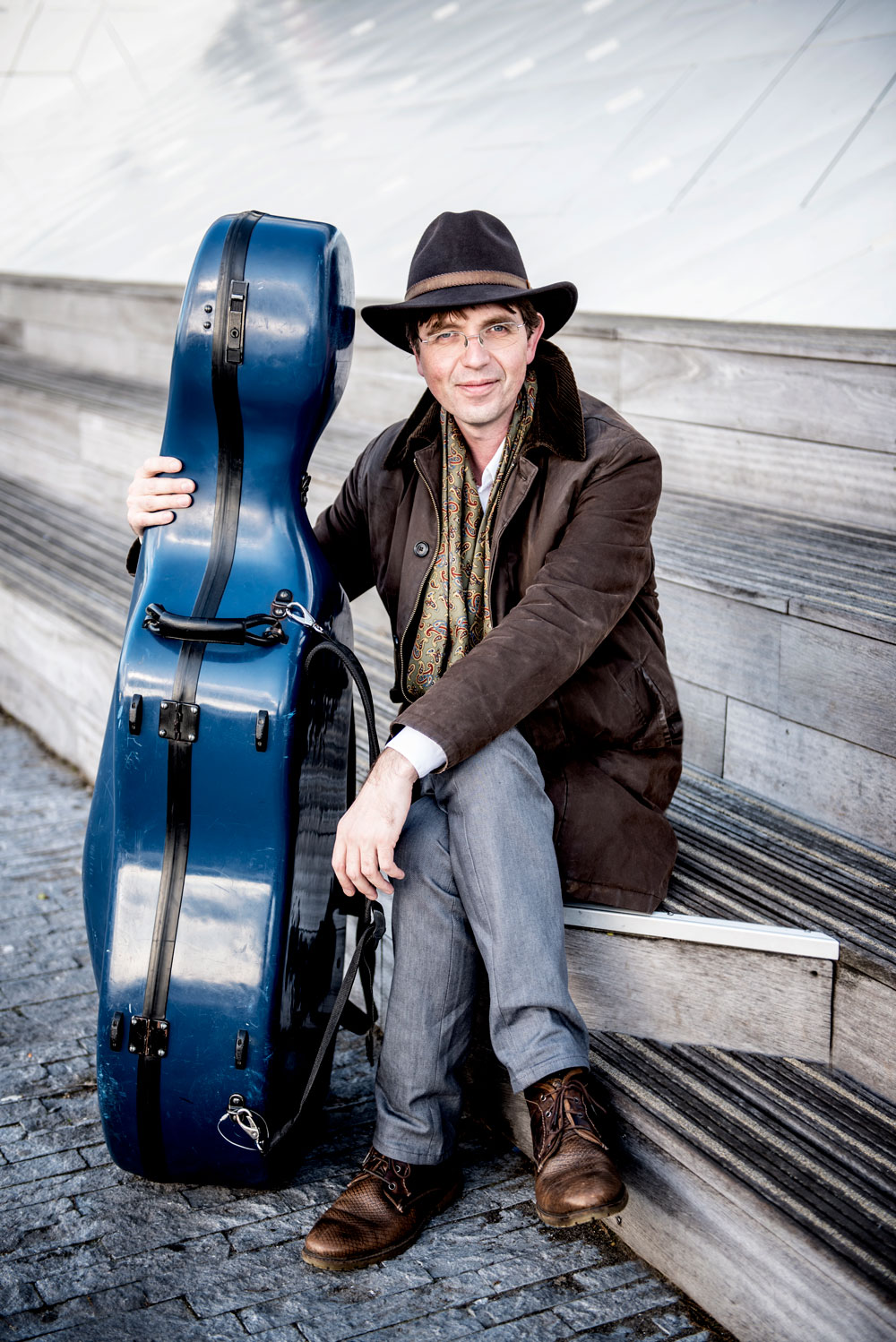 Cesar Franck: Sonata for cello & piano in A major
-Allegretto ben moderato
-Allegro
-Recitativo-Fantasia: Ben moderato
-Allegretto poco mosso
Claude Debussy: Sonata for Cello and Piano in D minor
-Allegro amabile
-Andante tranquillo – Vivace
-Allegretto grazioso, quasi Andante
Manuela de Falla: Siete canciones populares Españolas (Seven Spanish Folksongs)
1) El paño moruno 2) Seguidilla murciana 3) Asturiana 4) Jota 5) Nana 6) Canción 7) Polo
Ahmed Adnan Saygun: Partita for Solo Cello
-Lento
-Vivo
-Adagio
-Allegretto
-Allegro moderato
Jeroen den Herder
Jeroen den Herder completed his studies with distinction at the Conservatory of Amsterdam with Dmitri Ferschtman, and in London with Christopher Bunting. He then became a leader of the Cello Octet Conjunto Ibérico, a group with a worldwide reputation as a full time cello ensemble, performing around 40 concerts a year.
Den Herder has won several music awards through the years, he won the "Postbank Sweelinck" competition in 1992 and the first prize of the Foundation of the Royal Concertgebouw Amsterdam. He recently won the "Anton Kersjes Prize" as a member of the Ruysdael Quartet.
He's been an active chamber music player, performing with musicians like Janine Jansen, Igor Roma, Anner Bijlsma and Yo-Yo Ma. He has performed in more than 25 countries in great music halls like Wigmore Hall (London), Lincoln Centre (New York), Concertgebouw (Amsterdam) and Palais des Beaux Arts (Bruxelles), performing all major concertos of the cello repertoire by the baton of Friedemann Layer, Ed Spanjaard and Alexander Rudin.
Since 1999 Jeroen has been a member of the "Nieuw Ensemble", one of the leading Dutch chamber music groups for contemporary music.
As a member of the Ruysdael Quartet Jeroen has performed in all major concert halls in Holland, receiving much acclaim for their concerts at the Amsterdam Quartet Biënnale. This season the quartet will do a reprice of a tour to Japan besides perform in several festivals in Georgia, France and England. The Ruysdael Quartet is a founder of its own chamber music festival which is held every year in June.
He is the artistic director of both the Cello Festival Zutphen and the Cello Academie Zutphen where students can have masterclasses and an after-conservatory year to prepare for auditions, teaching or playing.
Den Herder has been a dedicated teacher ever since he took a professorship at the age of 22 at the Utrecht conservatory. His lessons are based on a healthy development between mind and body, and a cello technique inspired by his teacher Christopher Bunting, a former student of Pablo Casals.
Cello playing based on natural principles like gravity, character and playfulness. Everything is music, play not to avoid mistakes, delegation of body functions and breathing are some key topics which will lead to a healthy way to achieve perfection. His main focus is on how and what people practise. He believes that being aware of one's imagination, sensitive listening and following intuition, are elements that have proved to be the best teachers for life.
Today he  is a professor at the Conservatory in Amsterdam and Rotterdam, where he guides a class with 15 students. He's been a regular guest teacher at the Conservatory in Minsk and visiting guest professor at the University in Tainan, Taiwan. He has given masterclasses in Holland, Germany, France and Israel. In the summer of 2019 he will give masterclasses in Prague, Lyon and Turkey.
"I've heard Jeroen den Herder performing the Elgar cello concerto with the Sint Petersburg Philharmonic Orchestra. He played with great distinction and sensitivity, and I believe he will grow into a wonderful cellist" Yehudi Menuhin, 1995
Hua Hsuan, Lee
A Taiwanese pianist born in 1993. Since 5-years old began her first piano lesson with Taiwanese pianist Wei-Lung Li and his wife Chun-Ju Yen in the Music -Talented class. After finished her bachelor degree in Tainan National University of the Arts, she continue to study with Russian Pianist Stepan Simonian since 2015 for her Master degree in Hochschule fur Musik und Theater Hamburg, Germany.
While her study, she has took many masterclasses with great pianists, Boris Slutsky, Vladimir Tropp, Natalia Troull, Sergei Glavatskikh and Victor Rausenbau and also with Igor Roma, Enrico Pace and Piero Rattalino in International Imola Piano Academy.
As an active young pianist, she has been awarded prizes in numerous national and international competitions, including the first prize of International Cross-Strait International Music Competition (2015), the first prize of International Violin & Piano Competition of Vienna (2011), the first prize of Taiwan Music Competition (2007) and the second prize of Taiwan National Student Competition(2007). Furthermore, she has been selected to give the tour concert at the Piano-Marathon of Tainan National Universty of the Arts(2009), "serie-concert of rising star" in Tsinghua University (2012), Piano Podium Taiwan (2014) and was invited by Cellofestival Zutphen(2017), playing with Israeli cellist Gavriel Lipkind in Theater en Congrescentrum Hanzehof, Zutphen in the live concert by dutch radio NPO.
Being a highly sensitive and explorative young artist, Ms.Lee has deep desire of searching in different artistic way. Fortepiano playing brings her a new world with many inspirational way of thinking and different artistic view. She has took masterclasses with great fortepianist, Richard Egarr, Olga Pashchenko and gave successfully solo concert on the fortepianos Conrad Graf (1826, Vienna) and Collard & Collard(1840-1850, London) in Geelvinck Fortepiano Festival 2018 in Holland and giving regular concert Geelvinck Musea as a guest artist.
As a collaborative pianist, Ms.Lee has worked in many masterclasses, Cello Acadamy Zutphen(2018-), Cellofestival Dordt(2019) and as Duo with inspirational dutch cellist Jeroen den Herder, who is a cello professor in conservatory in Rotterdam (Codart)and Amsterdam(Cva), the member of Ruysdael Kwartet. They give regular concerts in several music festivals, Cellofestival Zutphen(2017), Beethoven festival Zutphen (2018) and Serie-concert "Eigentijd, klassiek concert " in Dat Bolwerck (2019) with many virtuoso repertoires, from classical music till contemporary music, including sonatas of Bach, Beethoven, Brahms, Schumann, Franck, Debussy, Schinittke and contemporary works of Xiaoyoung Chen, Tan Dun, Arvo Part. The concerts were successful and received highly recommend by audience.