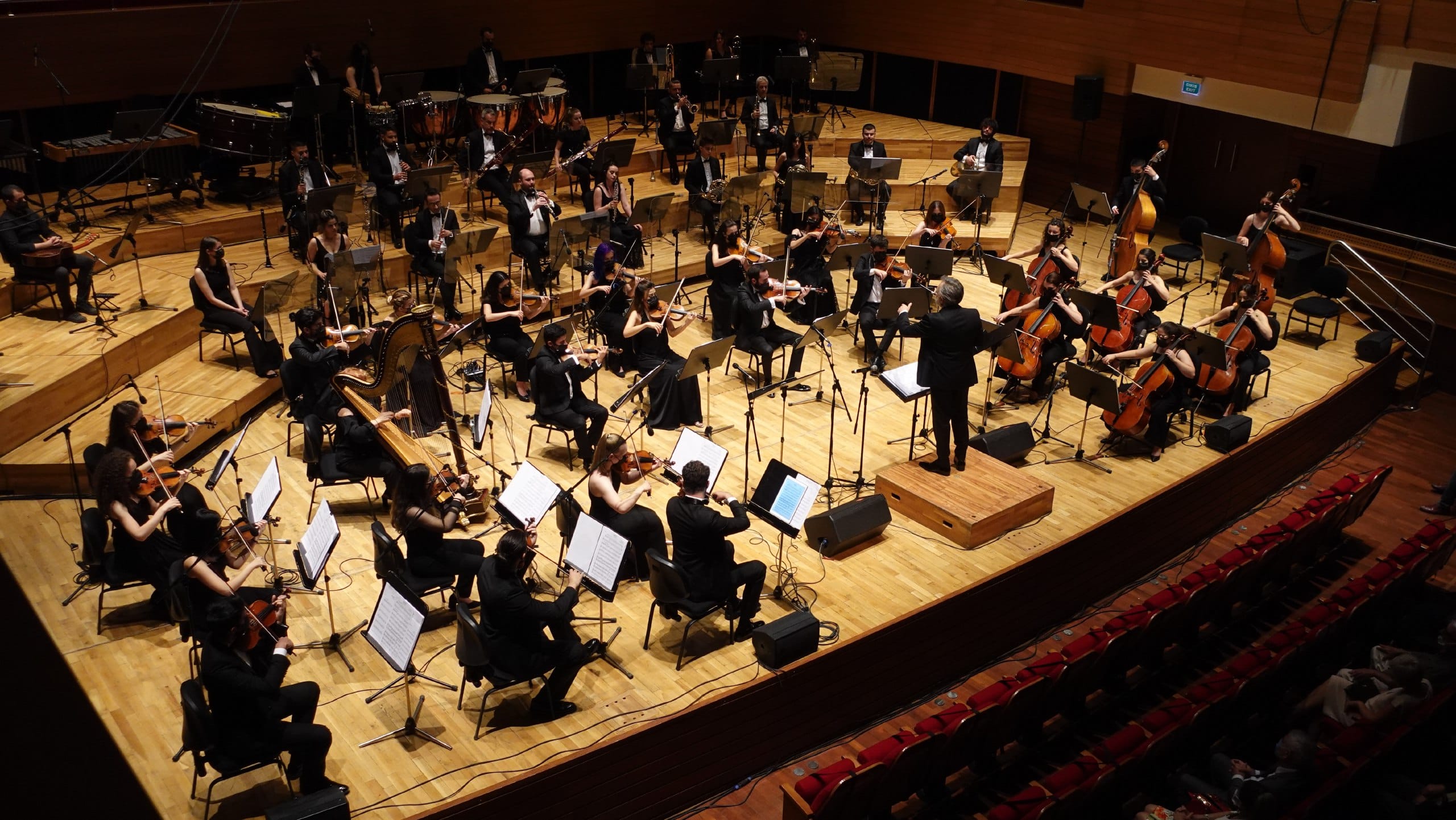 W.A Mozart – Piano Concerto No. 13 in C Major, K. 415
Piano: İlyun Bürkev
I. Allegro
III. Allegro
ara

Pablo de 
Sarasate – 
Zigeunerweisen
, op. 20 
Violin: Naz İrem Türkmen
A. Vivaldi  – Four Seasons 'Summer' in G Minor, RV 3152
Violin: Naz İrem Türkmen
II. Adagio e piano – Presto e forte
III. Presto
Saint-Saëns  – Introduction and Rondo Capriccioso, A Minör, op.28
G.Puccini  – Crisantemi, SC 65
Felix Mendelssohn – Yaylı Senfoni No.10, Si Minör
"El Ele Müzik Senfoni Orkestrası" was established by the Izmir Metropolitan Municipality in January 2021 within the body of Ahmed Adnan Saygun Art Center in order to support the artists affected by the pandemic.
Orchestra so far;
"Respect to Muammer Sun"
Chef: Renkim GÖKMEN
Soloists: Eylem DEMİRHAN DURU
Burcu HANCI
Levent DAY
"Hand in Hand with Children on April 23"
Chief: İbrahim YAZICI
Soloist: Blanc&Noir
Narrator: Selen ÖZTÜRK
"Hand in Hand to Samsun 19 May Special"
Chef: Tolga TAVİŞ
Soloists: Elif ŞEHİR
Oznur KORKMAZ
Burak DABAKOGLU
Sabri CAPANOGLU
"Gift to Livaneli"
Chef: Renkim GÖKMEN
Soloists: Görkem Ezgi YILDIRIM
Zeynep HALVAŞİ
Teyfik Rhodes
"Beethoven 250+1"
Chef: Can OKAN
"Vivaldi 4 Seasons"
Chief: Tolga EAR
International Izmir Film and Music Festival Opening Concert
Chief: Hakan SENSOY
He gave 7 concerts. Concerts were broadcast on Izmir Tube channel of Izmir Metropolitan Municipality. All conductors and soloists took part in the concerts voluntarily.
Nil Venditti
Young Italian-Turkish conductor Nil Venditti has already established relationships with orchestras including Orchestra della Toscana, Netherlands Philharmonic Orchestra and Ankara-based Ancyra Ensemble.
In November 2019 Venditti has been appointed Principal Guest Conductor of Orchestra della Toscana from the 2020/21 season. She was offered the role after her very first visit in July 2019.
Throughout the past season, Venditti served as Assistant Conductor to Marc Albrecht and the Netherlands Philharmonic Orchestra, making her Amsterdam Concertgebouw debut with the NedPhO. She also assisted Paavo Järvi and the Tonhalle-Orchester Zürich and made debuts with Les Siècles, Camerata Salzburg and Dubrovnik Symphony Orchestra while continuing her conducting studies in Zurich.
For her Camerata Salzburg debut in November 2019, she conducted Fazıl Say in works by the pianist/​composer himself, who has become a strong supporter since they first worked together in February 2018.
With a strong affinity for the core classical repertoire of Haydn, Mozart and Beethoven, Venditti is also expanding her scope into the operatic field, having conducted Mozart's Così fan tutte, Le nozze di Figaro and Die Zauberflöte, as well as Bizet's Carmen and Salieri's Prima la musica poi le parole. She also assisted Daniele Rustioni in Verdi's Ernani at Opera National de Lyon.
In the 2020/21 season Venditti tours Europe with Orchestra della Toscana, continues assisting the NedPhO in Amsterdam, and debuts with Ulster Orchestra, Orchestre National du Capitole de Toulouse, Orchestre National de Metz and Orchestre d'Auvergne.
Venditti is an advocate for finding inclusive relationships with new audiences. She has championed Nicola Campogrande's Concerto for Audience and Orchestra, originally commissioned for the Paris Philarmonie, for which the public is given kazoos and plastic-wrapped mints with which to interact with the orchestra, being conducted as part of the performance. She first conducted the work for an open-air audience of 2,000 people in Matera, Italy, in 2016, and with the Slovenian Philharmonic Orchestra in September 2019.
She is currently finalising a Specialised Master's Degree in conducting at the Zürcher Hochschule der Künste under the guidance of Prof. Johannes Schlaefli. She attended the Conducting Academy associated with the Pärnu Music Festival under Paavo Järvi, Neeme Järvi and Leonid Grin in 2017 and 2018, as well as the Gstaad Conducting Academy in 2016 and 2019.
Venditti was awarded First Prize at the national Premio Claudio Abbado for Young Musicians in 2015 at the age of 20 and won two prizes at the Jeunesses Musicales Competition in Bucharest in 2017.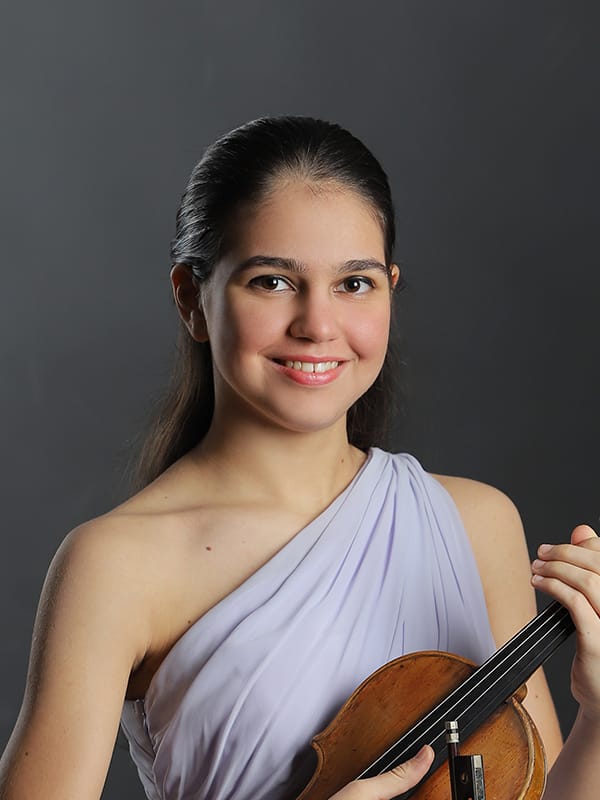 Naz İrem Türkmen
Naz Irem Turkmen, started her violin education at Istanbul State Conservatuary. She studied with  Prof. Ceyda Uzgören and Muhammedjan Turdiev. Currently she pursues her violin studies with  Prof. Sonja Korkeala at Hochschule für Musik und Theater München.
She is a part of " Young Musicians on World Stages " program initiated and carried out by Güher &; Süher Pekinel with the support of Tüpraş. She is  supported with an educational scholarship and a 17.-18th century instrument. She has attended the masterclasses of great pedagogues such as Prof. Dora Schwarzberg,  Kirill Troussov, Itzhak Rashovsky and Ellen Jewett.
She won "Grand Prize" & "Special Prize for Exceptional Artists Personality" at the Odessa International Violin Competition in Ukraine, 2018; First prize at 12th Grumiaux International Competition for Young Violinists" in 2019, Belgium.
She continues to give concerts in Turkey with Orchestras such as İzmir State Symphony Orchestra, Cemal Reşit Rey Orchestra, Eskişehir State Symphony Orchestra, İstanbul State Ballet and Opera  and Borusan Philharmonic Orchestra in distinguished Concert Halls, parallel to her education.
İlyun Bürkev
Pianist İlyun Bürkev started playing piano with his first  teacher Kıymet Berrak at the age of 4. While studying at the  Kemerburgaz Doğa College between the years 2014 and 2018,  she also started studying part-time at the Mimar Sinan Fine  Arts University State Conservatory which she continued until  2008. Afterward, in fifth grade, Bürkev started studying at the  Mimar Sinan Fine Arts University State Conservatory as a full time student of Prof. Burcu Aktaş Urgun.  
One of Turkey's young talents, 12-year-old pianist İlyun  Bürkev has gained the chance to receive the certificate of  the Associated Board of the Royal Schools of Music by the  time she was 6 years old. The pianist, who has attracted the  attention of music authorities at an early age with her first  international success by winning the 1st prize in the B category  of "Memorijal Jurica Murai" International Piano Competition  held in Varazdin, Croatia. Following her many successes, she  also won the first prize in B category of Istanbul Hisar Schools  International Piano Competition. Afterward, she has carried  her success forward even more with the 3rd prize at the Paris  International Music Competition in July 2018; the 3rd prize at  the Adana Rhapsody Piano Competition in April 2019 and the  1st prize at the Istanbul Pera International Piano Competition  in May 2019. Lastly, she also won the 1st prize in Infantile A  category of the 9th International Piano Competition María  Herrero in Spain as well as the "Special Prize for Musicality"  award. Lastly, she received the 1st prize, Best Chopin  Performance as well as Best National Piece Performance  awards at the Chopin International Piano Competition  organized by Maltepe University in İstanbul. 
In 2019, the Young Talent performed Mozart's piano concerto No.1  with Çukurova State Symphony Orchestra of Turkey under the  direction of maestro Dağhan Doğu and later took part in the Young  Excellence Intensive program of Mozarteum University of Salzburg  with her performance. In 2020, she was awarded with the prize of  "Young Talent Inspiring Art" at the "Values Summit" of Turkey held  at the Shangri-La Hotel and gave a concert there for the participants  representing some of the biggest brands and institutions of Turkey as  well as the world. İlyun, being invited to many well-known festivals  despite her young age, performed at the Stone House Concert of the  Bodrum's Gümüşlük Classical Music Festival.
In 2019, İlyun Bürkev has completed the "Young Excellence –  Intensive Class for highly talented young students" course in  Mozarteum University of Salzburg with a certificate of achievement  and is currently continuing her education at the Mimar Sinan Fine  Arts University State Conservatory with Prof. Burcu Aktaş Urgun. 
Bürkev also had the opportunity to work with artists around the  world in many masterclasses such as Turkish state artist pianist  Gülsin Onay in Istanbul, Prof. Gereon Kleiner and Prof. Andreas  Weber at Mozarteum University Salzburg of Austria, Prof. Vincenzo  Barzani in Italy, Ms. Perim Hamidoğlu in Istanbul, Mr. Shaun Choo  at Mozarteum University Salzburg of Austria, Yunus Kaya at the  Vorarlberg State Conservatory in Feldkirch of Austria, pianist and  conductor İbrahim Yazıcı, pianist Emre Şen, pianist Gökhan Aybulus,  pianist Anna Gamal in Dubai and pianist Jean Marc Luisada. 
Pianist İlyun Bürkev regularly works with Prof. Gereon Kleiner and  Prof. Andreas Weber of Mozarteum University of Salzburg in where  most of her education takes place. Bürkev met with Turkish state  artist, pianist Gülsin Onay in March 2019 and from then on became  a student of her and works with Ms. Onay on a regular basis. Pianist Gülsin Onay and young pianist İlyun Bürkev have come together for the Chopin Series with some surprise performances.Young pianist İlyun Bürkev composed her new piece, 'The Wind', inspired by the exhibition 'Rain Forest V (variation 3)' curated by Melih Fereli at Arter. The young pianist recorded her work at Arter's Sevgi Gönül Auditorium, which has been operating under the Vehbi Koç Foundation for more than ten years, with the aim of enabling an environment where everyone can be a part of the creative process. The young pianist's performance was broadcast to raise awareness on June 5, World Environment Day. Describing her work The Wind, Bürkev said, "I tried to reflect nature in my music with emotional changes. The song that starts happily reflects the sadness, that is, the destruction of nature, to the listener with transitions. When we give a chance to our world, it will grow and nourish itself again."