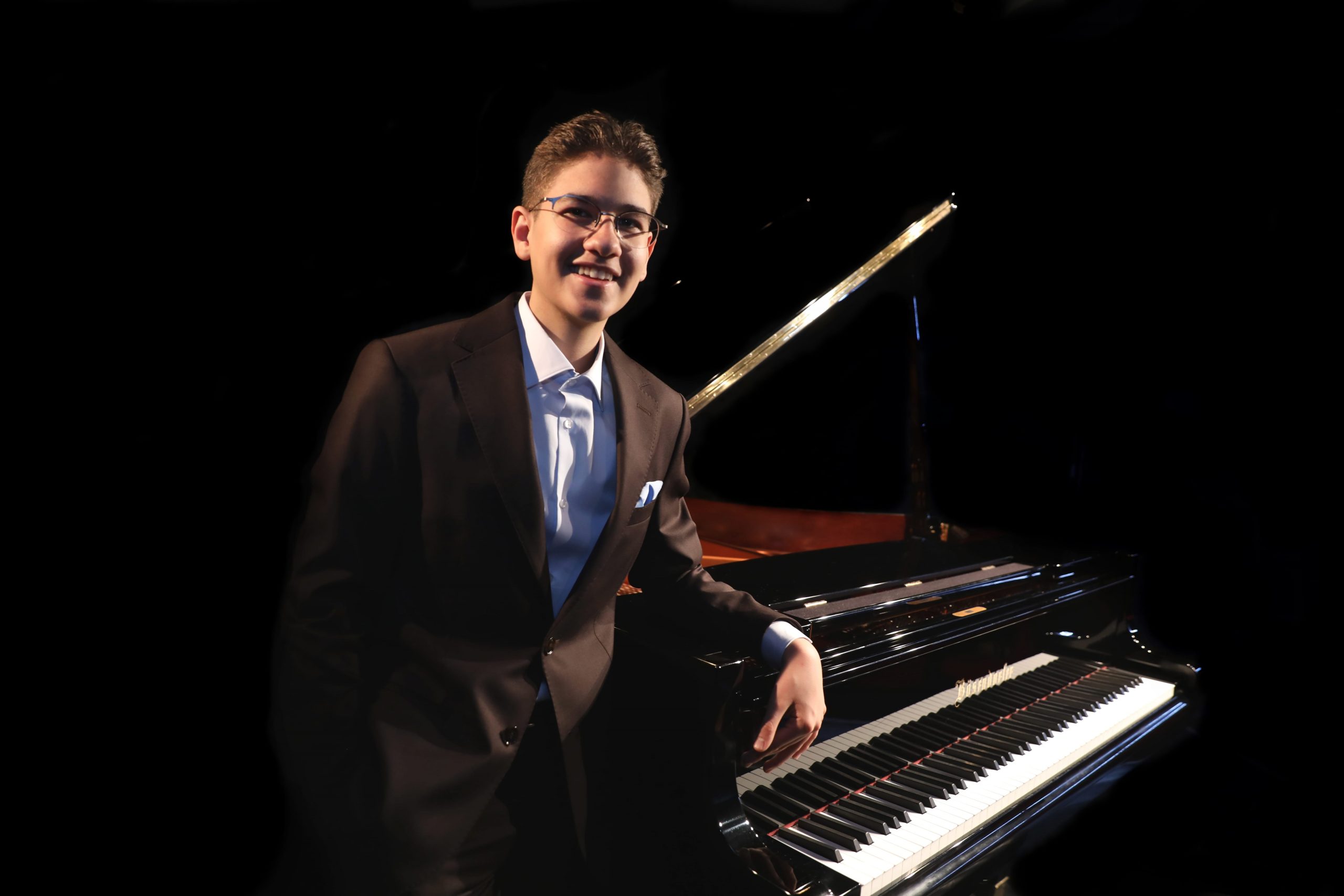 HAKAN BAŞAR
Hakan Başar, who was born in 2004 and started playing the piano at the age of 8, started his first studies Noah Baerman, Bill Cunliffe, Andy LaVerne, Walter Norris, Bill Dobbins, Jeb Patton, David, After doing it with the curriculum of names such as Berkman, Neil Olmstead, John Valerio, Clare Fisher Michel Petrucciani, Oscar Peterson, Keith Jarrett, Kenny Barron, Hank Jones, Bill Evans,Tommy Flanagan, Sonny Clark, Art Tatum, Scott Joplin, Chick Corea, Thelonious Monk, Inspired by the jazz piano styles of Cedar Walton, Horace Silver, McCoy Tyner, Herbie Hancock continued his work. Başar, who gave his first concert at the age of 10, later participated in all elite jazz festivals in Turkey (see.hakanbasar.com/events) took place. In 2018, especially Ferit Odman; Halil Caglar Serin completed the recording of albums with İmer Demirer and Kağan Yıldız. After the Akbank Sanat and 26.th of Istanbul Jazz Festival concerts, his first album titled "On Top Of The Roof" was released on 18th of October he released it from Ubuntu Music in the UK in 2019 and distributed worldwide. After the album launch concert on October 22, 2019, Hakan experienced his first abroad experience with EFG London Jazz Festival at Pizza Express Jazz Club Soho with Ferit Odman on drums and Halil Çağlar Serin on bass. In a 5-6 week period, including the concert date, the album tracks were broadcast repeatedly on Jazz FM, one of the most important jazz radios in the world. Concert interview, made by Mike Collins for London Jazz News.
Hakan, who made a quick entrance to 2020 with his concerts, started to broadcast on Radio when the pandemic started. Nominated as "Jazz Musician of the Year" by Boğaziçi. Hakan, who made a quick entrance to 2020 with his concerts, started to broadcast on Radio when the pandemic has started. nominated as "Jazz Musician of the Year" by Boğaziçi. Despite the cancellations of Gran Canaria and Madrid concerts during this period, Hakan joined online to the 24th Ankara Jazz Festival  took part for the second time. Articles and interviews of various authors about Hakan and his album appeared in many domestic and foreign publications (see hakanbasar.com/press). Hakan Başar and his album On Top Of The Roof continued to be played on jazz radio programs in Turkey and abroad. The anniversary of the album meant a new surprise for Hakan. Ubuntu Music and Martin Hummel released the song Hub Art, recorded by Hakan Başar with two legendary names of Yellow Jackets, Jimmy Haslip (bass) and Will Kennedy (drums), as "Hub Art Special Edition Single". Hakan Başar, who is still continuing his education at Pera Fine Arts High School, continues his studies.
OZAN ​​MUSLUOGLU
In 2000, he entered Bilgi University Music Department with a scholarship. In 2001, he continued his double bass training under the supervision of Volkan Hürsever, James Lewis, and Kürşat And.
He has given workshops with famous double bass players such as Marc Johnson, David Friesen, Dominique Lemerle, Robert Balzar and Dwayne Burno.
He released his first album "Coincidence" in 2009 with the Rec Jazz label. In 2011, he released his second album "40th Day" with Equinox Music label. Jeremy Pelt on the trumpet, JD Allen on the tenor saxophone, Danny Grissett on the piano and Darrell Green on the drums took part in this album, which also consists of compositions.
In 2012, he released his third album "My Best Friends Are Pianists" with the Equinox Music label, together with 12 of Turkey's most important jazz pianists.
For eight years between 2009 and 2017, he prepared and presented the radio program "Jazz Hour", which was broadcast on TRT Radio 3 every Friday night.
In February of 2015; He released his latest album "My Best Friends Are Vocalists" with the Sony Music label and was named the best jazz album of the year by Itunes in the same year.
Joy Voeth produced the albums "I Wish You Love" and Kenan Doğulu "Ihtimaller" and played the double bass.
Ozan Musluoğlu continues his work as the double bass player of TRT Bigband, conducted by Serkan Özyılmaz.
FERIT ODMAN
Ferit Odman, who started playing the drums at the age of 12, started his jazz education in Sweden in 1999, where he went with the AFS exchange program. The artist, who successfully graduated from Istanbul Bilgi University – Jazz Performance Department, which he entered on a scholarship in 2001, had the opportunity to study at the School for Improvisational Music in New York in 2004 and was awarded a Fulbright scholarship in 2006. She successfully completed her MA in Jazz-Performance working with Mulgrew Miller at William Paterson University. The endorser of Gretsch Drums, Vic Firth and Istanbul Agop Zilleri, who continued his work in New York for two years, recorded in New York with very important jazz musicians such as Terell Stafford, Vincent Herring, Brian Lynch, Anthony Wonsey and Peter Washington. He has three albums. These albums received four stars in Downbeat magazine and received many accolades from various jazz critics around the world.
Ferit Odman continues to work on concerts and albums with various jazz groups, especially TRT Jazz Orchestra and Kerem Görsev Trio, and receives invitations from jazz festivals in Europe and Turkey with his own group.