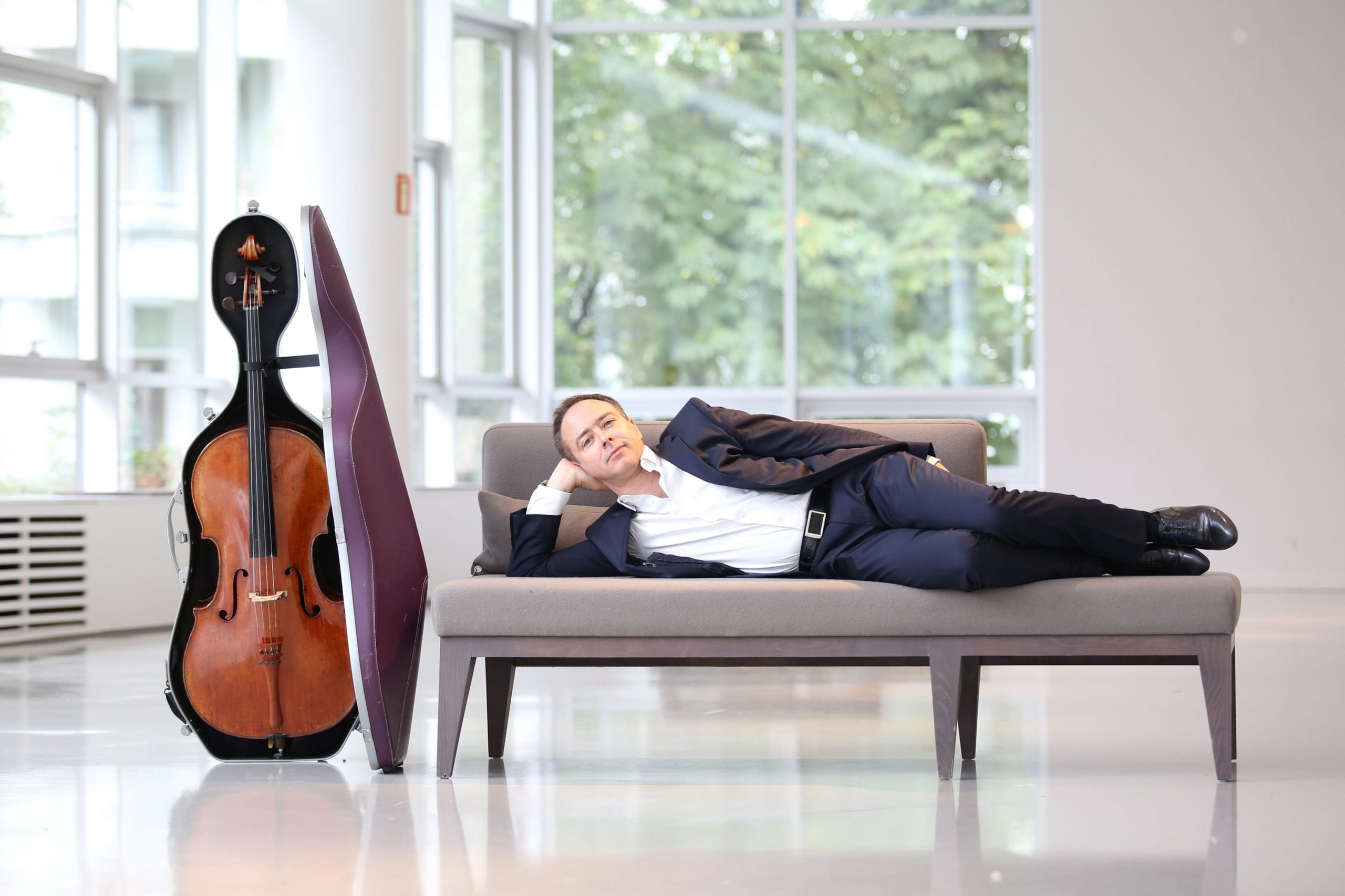 Henri Demarquette
As a young, brilliant musician Henri Demarquette attended the Conservatoire national supérieur de musique in Paris at the age of thirteen and studied with Philippe Muller and Maurice Gendron. His talent was quickly noticed and he was unanimously awarded a first prize which lead him to work with Pierre Fournier and Paul Tortelier in Paris, and Janos Starker in Bloomington, USA.
Already familiar with the stage, Demarquette makes his concert debut at seventeen in a recital at Théâtre du Châtelet in Paris. He catches the attention of Lord Yehudi Menuhin, who invited him to play Dvorák's Cello Concerto with him in Prague and Paris. In 2005 he is awarded a prize from Fondation Simone et Cino del Duca.
His career then takes an international turn and he is invited to perform across the world with some of the greatest French and international orchestras: most recently Orchestre National de France, London Philharmonic, Weiner KammerOrchester, Ensemble Orchestral De Paris, Tokyo Symphony Orchestra, Orchestre National Bordeaux Aquitaine, Sinfonia Varsovia, and Neue Philharmonie Westfalen He also appears with his favourite piano-partners Boris Berezovsky, Michel Dalberto, Jean-Bernard Pommier, Fabrizio Chiovetta, Vanessa Benelli Mosell and Jean-Frédéric Neuburger. In 2015 he co-founded a string quartet with Augustin Dumay, Svetlin Roussev, and Miguel da Silva.
Extremely creative and passionate, Henri Demarquette is involved in many parallel projects. In 2014 he performed in an eclectic programme with music from Bach to Galliano in a duet with the French accordionist Richard Galliano, and premiered Contrastes for accordion, cello and orchestra with Orchestre Royal de Chambre de Wallonie. That same year, together with L'Ensemble Vocal Sequenza 9.3., he created "Vocello", an original ensemble for cello and a cappella choir conducted by Catherine Simonpietri.
Three years later, he premiered Michel Legrand's Cello Concerto and recorded it for Sony with Orchestre philharmonique de Radio France and Mikko Franck.
His natural curiosity drives him to regularly perform contemporary music and to work closely with composers including Olivier Greif (Durch Adams Fall Concerto), Pascal Zavaro (Concerto), Eric Tanguy (Nocturne), Florentine Mulsant (Sonata), and Alexandre Gasparov (Nocturne).
His performance of Henri Dutilleux's Tout un monde lointain concerto with Musikalische Akademie des Nationaltheater-Orchesters Mannheim under Frédéric Chaslin and was filmed by France Europe Média in 2016.
Henri Demarquette teaches at Ecole Normale de Musique Cortot in Paris.
He plays the cello of Goffredo Cappa dated 1700, with a Persois bow dated 1820.
Özgür Ünaldı
Özgür Ünaldı, who was the first Turkish player to receive an award in the piano category at the International Johannes Brahms Competition held in Austria, attracted great attention in international circles and attracted the attention of many music authorities with his three-round outstanding performance and "best Brahms interpretation".
One of the leading pianists of our country, Ünaldı, at the age of seven, Prof. He started his first music education by taking private piano and theory lessons from Seçkin Gökbudak. She completed her undergraduate education at the Faculty of Music and Performing Arts at Bilkent University, where Gülnara Aziz was a student throughout her life at the conservatory, as the "Top of the Department and Faculty". Afterwards, she passed the aspirantura (proficiency in arts) exams of Moscow – Tchaikovsky State Conservatory and went to Dr. She started studying with the education scholarship of Nejat F. Eczacıbaşı Foundation. Professor in Moscow Ünaldı, who was entitled to enter Irina Plotnikova's piano class, successfully completed her doctoral studies in Moscow – Tchaikovsky State Conservatory in 2010, taking a special place in the pedagogue's class.
While Özgür Ünaldı progressed in his career with many concerts, festivals, recitals and workshops at home and abroad, he performed concertos with different symphony orchestras under the direction of leading conductors. It can be defined as the meeting of the principles of detailed and questioning interpretation fed by imagination with science. The impromptu Mozart interpretations that Robert Levin developed on the basis of his findings received widespread acclaim and praise, and his scientific paper on Mozart interpretation was also published.
In addition to continuing his career as a soloist, Özgür Ünaldı makes great contributions to the field of chamber music and continues his musical adventure with different ensembles. He is a member of the Bosphorus Trio, which consists of distinguished musicians such as Özgecan Günöz (violin) and Çağlayan Çetin (cello), the album of the famous trio titled "Turkish Piano Trios" from Naxos, one of the world's leading record companies, was released all over the world in August 2020, the album It contains the world premiere recordings of composers such as Ferid Tuzun and Oğuzhan Balcı. Özgür Ünaldı, together with his wife Elena Ünaldı, gives prominent recitals with his unique program as a viola-piano duo at home and abroad. Elena and Özgür Ünaldı's duo has the album "Sözsız Şarkılar ve Arpeggione" released on the "Bach Cafe Digital" platform. Özgür Ünaldı, together with the pianist Gökhan Aybulus, continues to sing the works written for two pianos that require brilliant virtuosity in different concert halls. The recital of "Rahmaninov in 176 Keys", which they performed as a recording/concert at the CRR Concert Hall during the Covid-19 epidemic, made a great impression.
Ünaldı, who is also a composer, has worked with Hatıra Ahmedli Cafer, Bujor Hoinic and Zarife Bakihanova in the field of composition. He has compositions for solo piano in different forms such as Prelude, Tokkata, Variations, cadences for classical period concertos, and arrangements for double and triple instruments. His last work, "Alnar Variations", was written for solo piano and received highly positive reviews and praise. The recording of this new work was released on the "Bach Cafe Digital" platform for the first time.
In addition to his active concert life at home and abroad, the artist continues to work as an associate professor at Bursa Uludağ University State Conservatory, one of Turkey's leading conservatories, in the Piano Department, and his students gain various successes in competitions and soloist selections.