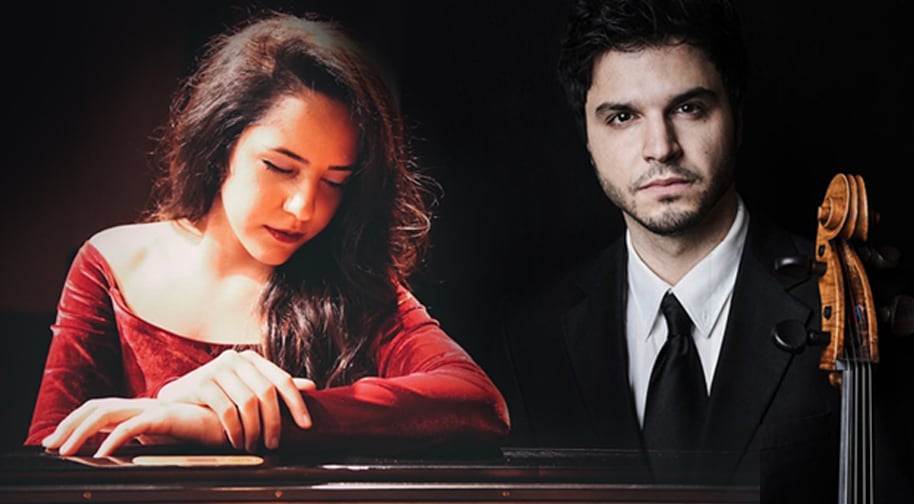 (CELLO & PİANO)
PROGRAM
D. Shostakovich – Sonata for Cello and Piano
• Allegro non troppo
• Allegro
• Largo
• Allegro
J. S. Bach/Gounod – Ave Maria
N. Paganini – Variations on a Theme by Rossini
G. F. Händel – Lascia Ch'io Pianga
A. Piazzolla – Oblivion
M. T. Von Paradis – Sicilienne
D. Popper – Hungarian Rhapsody
Jamal Aliyev
Lauded as "one of the greatest cellists of his generation" by acclaimed pianist Fazil Say, and with an "enviable technique and a rich broad palette" by Classical Music Magazine, Jamal Aliyev is captivating audiences all over the world and rapidly rising to the top of his profession. Being in high demand, he has made numerous appearances in North and South America, to the Far East in China, Hong Kong and Singapore and all throughout Europe.
In 2017, he made his solo debut at the prestigious BBC Proms with the BBC Concert Orchestra at the Royal Albert Hall performing for the celebrated film music composer John Williams' 85th Birthday. In the same year he won the 'Arts Club – Sir Karl Jenkins Music Award' and released his debut CD, 'Russian Masters', with pianist Anna Fedorova for Champs Hill Records to wide critical acclaim.
During the 2021/22 season Jamal toured with Sir Karl Jenkins and the London Concert Orchestra in the Royal Festival Hall (London), St. David's (Cardiff), CBSO Center (Birmingham), Bridgewater Hall (Manchester) and the Royal Concert Hall (Nottingham).
Jamal Aliyev gave the Turkish premiere of Fazil Say's cello concerto 'Shahmaran' at the Volkswagen Arena – Istanbul, in December and will be touring together as a duo in 2022-23.
Jamal has performed extensively internationally, highlights including solo appearances with the BBC Scottish Symphony Orchestra (broadcast by Radio 3), the Philharmonia Orchestra at the Royal Festival Hall, the Russian National Orchestra at the Grand Hall of Moscow Conservatory, Presidential Symphony Orchestra in Turkey, CBSO at the Royal Albert Hall, Simón Bolívar Symphony Orchestra in Venezuela and Tomsk Philharmonia at the Trans-Siberian Festival. In 2021 he was featured as one of Classic FM's '30 of the most brilliant young classical musicians playing today'.
"His extremely successful Hong Kong debut in 2022 was "jaw-dropping" and left audiences "dazzled" for both his solo recital for Premiere Performances and his appearance with the Hong Kong Sinfonietta."
In 2022 Season Jamal Aliyev debuts in Hong Kong, Australia, and the USA, records albums with Turkish pianist and composer Fazil Say and the Vienna Radio Symphony Orchestra conducted by Howard Griffiths. In September of the 2022/23 season, his duo album 'Tree of Life' with Fazıl Say was released and he will be recording Say's 'Shahmaran' concerto with the Deutsche Symphony Orchestra in Berlin.
Immensely popular in Turkey, he returns to give recitals with Say, and to perform concertos by Haydn and Shostakovich with the Istanbul, Izmir, Bursa, CSO, Eskisehir and Mersin Symphony Orchestras. Furthermore, collaborating with local musicians using traditional Turkish instruments is something that Jamal believes in very strongly and relishes doing. He has promoted this through the online release of traditional folk and classical music performances.
Jamal Aliyev performs on a 1700 Giuseppe Guarneri "filius Andreae" cello.
Zeynep Ülbegi
Zeynep Ülbegi was born in Ankara in 1996. In 2007, she began her piano studies with Nuran Taşpınar at Hacettepe University Ankara State Conservatory. In the same year, she started singing in Ankapella Youth Choir directed by Assoc. Prof. Ahter Destan. With this choir, she won numerous international awards in choir competitions in Turkey, Belgium, Bulgaria, and Serbia, and performed concerts in significant venues such as Palau de la Musica Catalana and La Sagrada Familia. Throughout her piano education, she actively participated in masterclasses led by İdil Biret, Peter Katin, Hüseyin Sermet, Gülsin Onay, İbrahim Yazıcı, Ilya Itin, Pawel Kaminski, and Misha Dacic. She participated in the Gümüşlük Classical Music Festival in 2010, 2011, and 2014.
From 2009 to 2011, she took Contemporary Music History lessons from Prof. İlhan Baran, one of Turkey's most important composers. Starting from 2012, Zeynep Ülbegi continued her piano studies with Prof. Demet Akkılıç. In the same year, she performed as a soloist with the Hitit Philharmonic Orchestra in March. In January 2015, she received the third prize at the 11th Huesca International Piano Competition in Spain. In April, she served as an orchestral pianist in the Ankara Youth Symphony Orchestra. In May, she received the "Most Successful Duo Award" at the 10th International Pera Piano Competition in Istanbul, together with pianist Ezgi Göktürk. In November, she was invited to the 16th International Antalya Piano Festival and performed in the "Young Talents" concert dedicated to Kamuran Gündemir. In February 2016, she was selected as a soloist for the "Young Stars" concert and performed with the Hacettepe Symphony Orchestra conducted by Orhun Orhon. In the same year, she started private voice lessons with Oylun Erdayı. In September 2017, she participated in the 20th Ayvalık International Music Academy and, thanks to her successful performance, became one of the four pianists who shared the stage with İdil Biret in Istanbul in October. In July 2018, she graduated from Hacettepe University Ankara State Conservatory Piano Department as the Music Department and School's top graduate.
In addition to her piano career, Zeynep Ülbegi also shows promising potential in the field of vocal music. She became the first Turkish person to be accepted into the voice department of the Eastman School of Music in the United States, one of the world's most important music schools. In November 2018, she had her first masterclass in vocal music with Ellen Hargis. In the same month, she was invited as a soloist to the Rochester Early Music Festival. In December, she performed as the lead role Orfeo in the concert version of L. Rossi's opera L'Orfeo, organized by the school's early music ensemble Collegium Musicum.
Since December 2019, Zeynep Ülbegi has been serving as an orchestral pianist in the Presidential Symphony Orchestra at certain intervals. Since June 2023, she has been a member of the Etisan Holding Chamber Orchestra, where she had the opportunity to perform under the baton of Rengim Gökmen, Cem Mansur, Can Okan, and Atahan Dinç. In July 2020, she received the third prize at both the Boğaziçi Art Academy 1st International Online Piano Competition and the 1st Napolinova International Online Voice Competition. In February 2021, she won the first prize together with pianist Gizem Alkan at the Caspi Art Maestoso 2nd International Music Competition. Between 2019 and 2021, she worked as a répétiteur at the Hacettepe University Ankara State Conservatory Opera Department. In September 2021, she performed as an orchestral pianist in the Ankara City Philharmonic Orchestra. In March 2022, she appeared as a guest on the "Başrolde Kadınlar" and "Eskiden Yeniye" programs broadcasted on TRT Radio-3. In August, she was invited as a competition pianist to the 21st Ottavio Ziino Voice Competition Turkey preliminary round by Murat Karahan. In April 2023, she participated in the recording of Fazıl Say's 100th Anniversary March with the choir. Currently, Zeynep Ülbegi is working as a répétiteur in the Wind and Percussion Department and pursuing a master's degree in the Piano Department at Ankara State Conservatory. She continues her piano studies with Prof. Demet Akkılıç and her voice studies with Maia Mari Chikhradze.