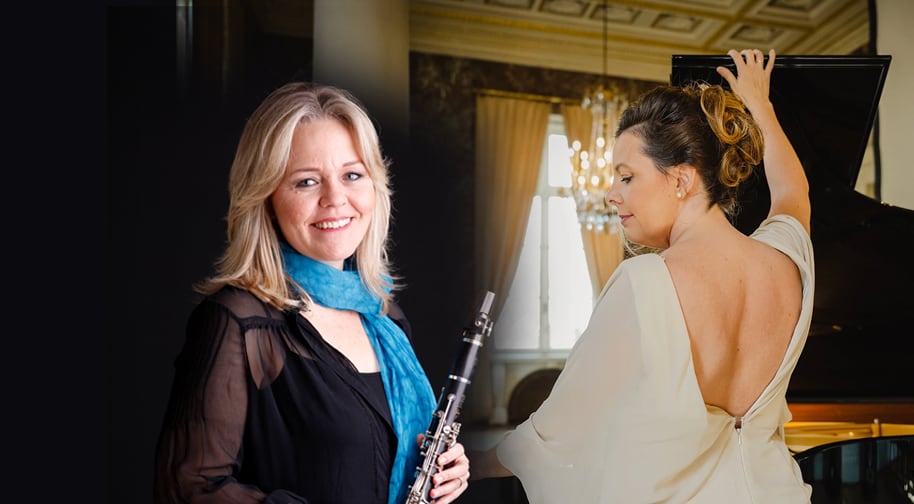 (PIANO & CLARINET)
PROGRAM
J. Brahms – Clarinet Sonata in E-flat major, Op. 120 No. 2
• Allegro amabile
• Allegro appassionato
• Andante con moto – Allegro
F. Chopin – Ballade No. 4 in F minor, Op. 52
Ara/Interval
F. Poulenc – Clarinet Sonata in B-flat major, FP 184
• Allegro tristamente
• Romanza
• Allegro con fuoco
D. Milhaud – Scaramouche, Op. 165b
• Vif
• Modéré
• Brazileira
Eliane Reyes
The genius pianist Eliane Reyes started performing at a very early age. She won the Cziffra Foundation (Senlis, France) award in 1988 and performed at the Tibor Varga Festival (Sion, Switzerland) the same year and with the Royal Concertgebouw Orchestra under Sergiu Commissiona in Amsterdam.
She was first educated by her mother, then at the Royal Conservatory in Brussels and then at the Queen Elisabeth Music Chapel in Jean-Claude Vanden Eynden's class. Eliane later attended the Hochschule der Künste in Berlin, the Mozarteum in Salzburg with Hans Leygraf, the Lemmensinstituut with Alan Weiss, and then the Conservatoire National Supérieur de Musique in Paris with Michel Beroff, Brigitte Engerer, Hans Leygraf and she studied under the auspices of Jacques Rouvier. After her education she was appointed as a complementary professor of piano at the Conservatoire National Supérieur de Musique in Paris.
Across the spectrum of international competitions, Eliane has won numerous awards, including first prize in Ettlingen, Germany, and first prize at the Cervantes International Piano Competition in Cuba. She was a finalist in the Montreal International Music Competition, the Clara Schumann International Piano Competition in Düsseldorf, where she won equal awards in chamber music, and the Maria Canals International Music Competition. Eliane Reyes is dedicated to her career as a recitalist, soloist and chamber musician, unanimously acknowledged by the international press and audience.
She received the absolute support of Rheinold Blüthner, Nany Philippart, Spes, Solti and Vocatio Foundations for her numerous performances. She had the opportunity to give recitals from artists such as Martha Argerich or Vladimir Ashkenazy and to be invited to perform with Augustin Dumay, Ivry Gitlis, Misha Maisky and José van Dam.
Her discography consists of works by Nicolas Bacri, F. Chopin, C. Debussy, Benjamin Godard, F. Liszt, Michel Lysight, D. Milhaud, M. Ravel, A. Tansman, and as a result, "Pianiste Maestro" from the French magazine Pianiste, Classic Info's "Ring", Crescendo Magazine's "Joker", Pizzicat's "Supersonic" and especially ResMusica's 24 Intermezzi won the "La Clef d'or" award for A. Tansman's solo recording. Eliane Reyes has been nominated three times for the "International Classical Music Awards".
Eliane Reyes is currently professor of piano at the Royal Conservatory in Brussels.
Ayşegül Kirmanoğlu
Ayşegül Kirmanoğlu was born in Istanbul. She began her musical journey with Tülay Örser and Ahmet Ermakastar at Mimar Sinan University. She attended the Aberdeen Music Festival with a scholarship from the British Government. In 1985, she received another scholarship from the French Government and entered the Nantes Conservatory, where she graduated with top honors. During her time there, she studied with Mehmet Ermakastar, Alain Boeglin, Guy Dangain, and Guy Deplus. The same year, she won the first prize at the "Leopold Bellan" competition in Paris. Ayşegül is among the first to perform clarinet concertos by composers such as A. Copland, G. Finzi, and C. V. Stanford in Turkey.
In 2001, she was invited to a seminar by the "Mediterranean Clarinetists Association" in France. In 2010, she recorded her first solo CD with flutist Sibel Pensel, conductor Naci Özgüç, and the Mersin Academic Chamber Orchestra. The same year, she performed concerts as part of the "Turkish Season in France" event. Additionally, she has released two chamber music CDs under the names "Nice'tanbul" and "Trio Giocoso." In 2018, she recorded chamber music works by Mozart with Ensemble Mendelssohn in Belgium. In 2014, she was honored with the "Wind Instruments Performer of the Year" award at the "Donizetti Classical Music Awards" organized by Andante magazine.
Ayşegül has given numerous concerts both in Turkey and abroad, including in countries such as France, Russia, Switzerland, Belgium, Ecuador, and China. She served as the clarinet group leader in the Istanbul State Symphony Orchestra for many years. She continues her artistic career as a soloist and chamber music artist.